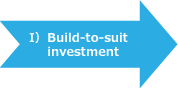 Build-to-suit (BTS) is a property development method in which a customized and specialized facility is built to meet location and specification requirements of a healthcare business operator and the facility is then leased to the business operator.
AIP supports the growth of healthcare business operators (senior housing with support services, nursing homes, medical institutions, and other facilities) through BTS funds.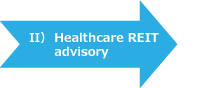 Provide information on healthcare facility management and operation
Assist in all types of negotiations with operators and provide support and other advisory services
Provide guidance for market research and analysis related to investment targets
AIP has entered into an advisory agreement with Daiwa Real Estate Asset Management who is the asset manager of Nippon Healthcare Investment Corporation, currently Daiwa Securities Living Investment Corporation, Japan's first dedicated healthcare REIT. The agreement aims for Nippon Healthcare Investment Corporation's continuous and stable growth through the expansion of investment opportunities and improved quality of real estate management by the asset manager etc., and AIP will provide services in the above areas.
Furthermore, AIP will provide information regarding new investments.